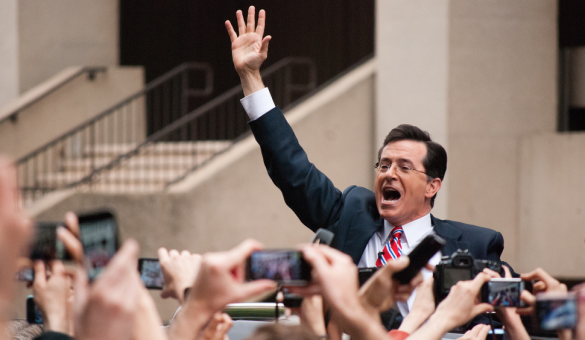 Kurz bevor Stephen Colbert nach mehr als neun Jahren seinen 'Colbert Report' bei Comedy Central beendet, verrät er im neuen Slate-Podacst 'Working' alles – wirklich alles – was es über die Produktion seiner Show zu berichten gibt. Als Zuhörer bekommt man von Colbert eine extrem detaillierte Beschreibung eines typischen Arbeitstages. Großartiger Insight! Darunter auch das, was er jedem seiner Gäste vor Aufzeichnung der Show als Disclaimer mitteilt:
"Hi, have you ever seen the Show? I do the show in character, he's an idiot, he's willfully ignorant of what you know and care about. Please, honestly disabuse me of my ignorance and we will have a great time!"
Der Colbert Report endet in wenigen Wochen, aktuell sind es nur noch weniger als 30 Sendungen. Ab 2015 übernimmt Stephen Colbert dann den Sendeplatz von Late Night König David Letterman auf CBS.
[via:
Nerdcore
] [Bild:
CC BY-NC- SA Reid Rosenberg
]