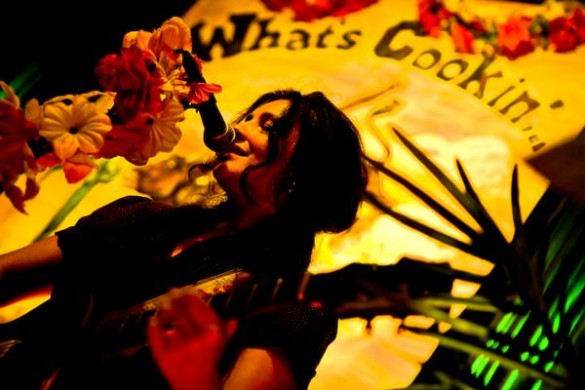 Holly Golightly hat schon länger Ikonen-Status bei Freunden des 60s Blues & Garagen-Rock. Zusammen mit Billy Childish lärmte sie sich in den 90ern mit den Headcoatees durch sämtliche Medway Clubs in England. Später produzierte sie Solo-Alben, kollaborierte mit verschiedenen Künstlern und blieb dabei doch stets abseits des ganz großen Rampenlichts. Seit rund 10 Jahren lebt sie nun mit ihrem Mann in Georgia, USA, macht weiterhin Musik und hat eine neue Band – The Brokeoffs – an ihrer Seite. "Slowtown Now!" ist das erste richtige Soloalbum seit 2004 und schwelgt souverän im 60s Pop, Folk, Blues und Country.
This is a breathing, present, gorgeous record; the production never draws attention to itself but also never surrenders to Lo-Fi, recalling at many times the carefully balanced acoustic rhythms and reverby twang of the Shadows, the tiny but elegant production dressing I'd expect from Mitch Easter, and a rich, airy ambience that recalls Daniel Lanois. Uh-huh. (Observer)
Schön, dass sie wieder da ist.
[via Damaged Goods]